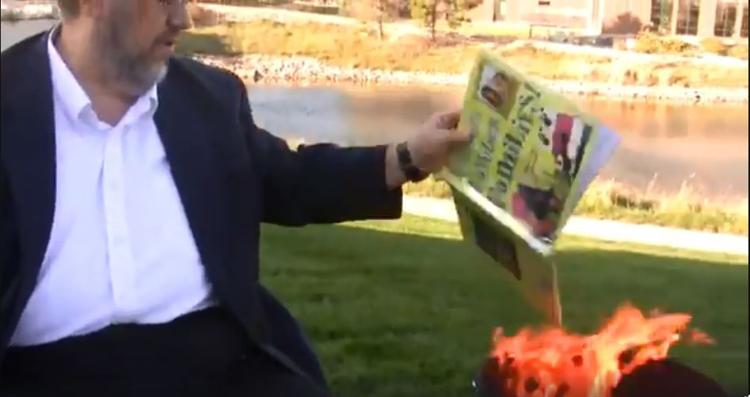 ORANGE CITY, Iowa — The leader of an anti-LGBTQ organization in Northwest Iowa burned LGBTQ books from the public library last weekend to protest the small city's Pride celebration.
The Sioux City Journal reported that Paul Dorr, who describes his group Rescue the Perishing as "a crisis center and pro-life, pro-family movement," said that the protest was because of his outrage that Orange City Pride took place. This was the second year for OC Pride.
Dorr burned the books in a Facebook Live video. He also told the newspaper that sex ed classes in schools, local churches not opposing LGBTQ causes and a play at a local college all contributed to his protest. According to the newspaper, the 28-minute long video was basically Dorr ranting about LGBTQ.
Here is the full video. The burning is at the end.
From the Journal:
After nearly 25 minutes of speaking in the video, Dorr begins pulling out LGBTQ-themed books checked out from the Orange City Public Library and, after describing the problems he sees in them, throws them into a burning barrel sitting at his left.
"Orange City Library, you won't be peddling this one anymore!" Dorr says in the video as he pitches an LGBTQ-themed children's book into the flames. "You should all be ashamed of yourselves and repent."

The books Dorr selected for burning, he said, were those he deemed the most egregious. He said he has not spoken to anyone from the Orange City Public Library, and that he will not be replacing the books nor paying for them.
"This whole (book) is designed to get 12-to-13-year-old boys to start having homosexual sex together," he said of one of the books. "I can't read you all of this stuff. It is so filthy, and so disgusting."
The books that were burned were David Levithan's "Two Boys Kissing"; Suzanne and Max Lang's "Families, Families, Families!"; Gayle E. Pitman's "This Day in June"; and Christine Baldacchino's "Morris Micklewhite and the Tangerine Dress." The Orange City Public Library told the Journal it had no comments as of Monday afternoon.
OC Pride organizers told the Journal that they were disappointed to see someone breaking the law but were thankful for community members setting a positive example of building community.
Comments
comments